Capitol Tours
Due to safety regulations, all tour groups, even those that are not conducted by General Assembly Tour Guides, are required to schedule their tours through this office at 1 800 868-7672. Failure to do so may result in unnecessary delays for your group.
Guided Tours
In addition to visiting the Welcome Center, you may want to consider a 30-minute guided tour of "the handsomest building" President Theodore Roosevelt ever saw. Capitol Tour Guides are available to point out the architectural and artistic highlights, and to make the Capitol's history come alive for you.
Guided tours of Pennsylvania's Capitol are offered every half hour Monday through Friday, 8:30 a.m. to 4:00 p.m. Weekends and most holidays tours are offered at 9:00 a.m., 11:00 a.m., 1:00 p.m., & 3:00 p.m. The Capitol is closed for tours New Year's Day, Easter Sunday, Thanksgiving Day, and Christmas Day. Schedule subject to change without notice.
Tour the Capitol when you are "tour'n PA" by calling the Tour Guide Office 1-800-TOUR-N-PA (868-7672). Groups of 10 or more require advanced reservations. For your safety, and the safety of others, group size is limited to 80.

Self-Guided Tours
Regular weekdays only. Download our Self-Guided brochure: English | Spanish | German. Additional brochures are available at the information desks.
The Capitol and Welcome Center are accessible for individuals with special needs.

Activities during your visit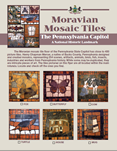 Moravian Mosaic Tiles
The Moravian mosaic tile floor of the Pennsylvania State Capitol has close to 400 picture tiles. The tiles pictured on this flyer are all located within the main rotunda. This is a fun activity for the entire family to see how many you can locate and check off during your visit to the Capitol.

Touring Tips
Here are some tips to make your visit to the Pennsylvania Capitol more enjoyable.
Schedule early. Scheduling tours for the next year begins the first weekday in August. By December, most of the prime times for the spring are taken. The spring is School Field Trip Season.
For your safety and the safety of others, as well as for quality tour purposes, group size is limited to 80 (total of students and chaperones combined) for each tour group scheduled. Evacuations are hindered with larger groups.
Call us first before scheduling other Harrisburg venues. We can hold several dates and times for you.
Keep in mind, the State Museum is OPEN ten (10) Mondays and ten (10) Tuesdays in the spring to help accommodate school field trips (otherwise, the State Museum is closed Mondays and Tuesdays).
There are four (4) public entrances to the Capitol. They are:

East Wing Entrance at the Fountain on Commonwealth Avenue (also the handicapped entrance)
Main Rotunda Entrance at Third and State Streets
North Office Building on North street (closes at 3:00 p.m.)
Irvis Office Building off of Walnut street (closes at 3:00 p.m.)

During the week groups MUST enter through the East Wing Entrance on Commonwealth Avenue (by the fountain). Capitol Police will not permit groups exceeding 20 to enter through the main entrance on Third Street during the week.
Be aware of security procedures. Even if you've visited before, it is in your best interest to obtain the most recent, up-to-date security information.
Allow at least 15 minutes to be processed through security. Even if you are not part of a group, you may end up behind one entering the building. Items confiscated will NOT be returned. Promote, If you don't need it; don't bring it.
Group leaders should check in with the tour guide at the Information Desk just inside the East Wing and Main Rotundas.
Bus parking is available at both the State Farm Show complex, 717-787-5373, and on City Island. Parking garages for smaller vehicles are conveniently located in the areas surrounding the Capitol complex. For more information on parking, click here.
Incorporate time into the day's activities for restroom breaks. It is important to be on time for your tour to maintain your schedule for the day and to avoid delays for other scheduled groups.
Lunch tables are scheduled by booking online or calling the Tour Guide Office, 800-868-7672.
Brown bagged lunches should be in boxes or coolers and distinctly marked with the school name. Do not leave these boxes or coolers next to a trash can. They will be discarded.
Please let us know if you must cancel your visit by calling 800-868-7672.
8:30 a.m. - 4:00 p.m.
Monday through Friday

9:00 a.m., 11:00 a.m., 1:00 p.m., & 3:00 p.m.
Saturday, Sundays and most holidays

Call 1-800-868-7672 to schedule

Schedule subject to
change without notice.