Tour Schedule :
Tours of the Capitol have been temporarily suspended. We apologize for any inconvenience.
Thank you!
Interactive Welcome Center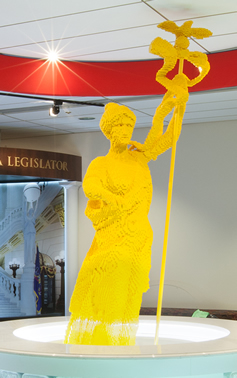 We invite you to explore all things Pennsylvania by visiting the Interactive Welcome Center at the Capitol. Learn about Pennsylvania government -- and have fun in the process -- by reading, listening, touching and interacting with colorful, informative exhibits.
The Interactive Welcome Center is located in the East Wing of the Capitol, and is open Monday through Friday from 8:30 a.m. to 4:30 p.m. The interactive Welcome Center is a good first stop for visitors to Pennsylvania's Capitol. A series of educational displays explain how laws are made - and even allow citizens to "vote" on legislation. Visitors can also find out who their representatives are in the House and Senate. The Capitol and Interactive Welcome Center are accessible for individuals with special needs.

Among the new attractions include:
The Commonwealth statue built with Legos.
Floor projection games that visitors can play to learn fun facts about Pennsylvania.
Visitors can also:
Listen to debate and vote on Senate and House bills
Take a virtual tour of the State Capitol
Watch as two "virtual legislators" discuss their responsibilities
Listen to the "I'm Just A Bill" video by Schoolhouse Rock
Visitors can even use their cameras or smart phones to have their picture taken as if they are on the top of the Capitol Dome with Commonwealth.
Over 300 years of Pennsylvania history are illustrated on one wall, while another features interactive exhibits that highlight the people, places, history and industry of Pennsylvania.